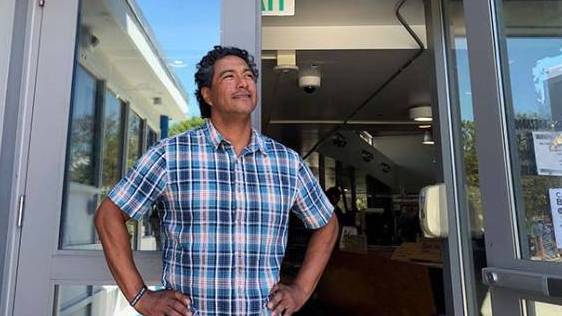 'Unassuming' does not begin to describe Jorge Valadez. This bookstore operations assistant—who helps with things like problem resolution, sales, getting rid of old stock and trying to "get students a good deal"—also happens to be a behind-the-scenes volunteer with Santa Monica College's fairly new and robust food security program. Every Wednesday, during the fall and spring semesters, Jorge wakes up at the crack of dawn (literally) to drive to the Westside Food Bank in Santa Monica.
He sifts through boxes, and comes back to SMC's main campus with roughly 1,400 pounds of produce as well as non-perishable food items that are given away to students for free through the Corsair Market and through seven food pantries. He does all of this unobtrusively and quietly—and has been doing so since 2017.
An SMC alum and a U.S. Army veteran who also served during Operation Desert Storm, Jorge is the kind of person his supervisors call "exemplary". His colleague and fellow veteran Paul Lucero treasures their camaraderie at work and loves when he's invited along on Jorge's "hiking adventures." A face that's deeply tanned bears evidence of Jorge's love for the outdoors: he's also a scuba diving instructor, and spends a lot of time kayaking, and out on the ocean.
A Ritual of Love
Jorge was born and raised in Los Angeles: Compton, then north Long Beach. His parents were from Mexico, and Jorge's mom often took him along on her weekly shopping trips to Grand Central Market. He remembers the bus rides down Willowbrook Avenue to downtown Los Angeles in the early 70s.
"[Los Angeles] was a bit more diverse," says Jorge, "the neighborhoods were not as segregated as they are now, and there were more open spaces." His family never ate out—Jorge and his five siblings would gather around the table for a meal his mother made each evening. "It was always a ritual. After dinner, we would go back to play. Even now, I tend to have my family over for dinner [because] that's the time we come together."
For birthdays, the family would head to the beach to grill. Jorge, a couple years ago, invited one of his SMC supervisors, Director of Auxiliary Services David Dever, for a cookout at which his family was also present. Upon which David said, "Wow, I guess I am really 'in' now." Jorge replied, "You're right. Once you get an invitation, you're in for life."
From his father, who had been a semi-professional soccer player in Mexico, Jorge picked up certain habits: he always has fruit on hand, and he carries a jacket no matter how warm it gets. From a home that had nourished him—in every sense of the word—Jorge would leave Los Angeles when, fresh out of high school, he joined the U.S. Army.
An Angeleno in Germany—and Beyond
At the age of 19, as a soldier in the 3rd Infantry Division, Jorge would witness the fall of the Berlin Wall in Germany (his unit would leave soon after, ending a presence that had been in place since the Cold War). Witnessing that historic moment left a lasting impression.
"They set up TVs throughout the entire city, and everyone was celebrating and hugging," remembers Jorge, "it didn't matter who you were." When his unit got ready to leave, Jorge was struck by how sad the Germans were, generally, to see them go. "They didn't want us to leave. We were changing lives completely. People would tell me, 'I've worked in American bases all my life, I've interacted with you Americans since I was a child . . . and now you're leaving'."
From Germany, Jorge was sent to serve a tour during Operation Desert Storm; from there he headed to Georgia; and when he finished his time in the Army, he went back to Aschaffenburg, Germany. He married a woman whose family had run a restaurant—and she taught Jorge how to cook. They stayed together for 10 years, and when they eventually divorced, Jorge came back to the U.S.
New Beginnings
Back home, Jorge got a job as a manager at the Marina del Rey Marriott. He enrolled in classes at Santa Monica College—and this was where he would meet a swim coach, named Emile Louis, who encouraged him to parlay his experience as a rescue diver to do what he'd always wanted: become an instructor, and teach scuba diving. Armed with recommendation letters from Emile, Jorge went on to do just that. He also became a merchant marine, and took divers out to sea.
At SMC, in addition to Emile, Jorge met many people who inspired him: in Kinesiology & Athletics, there were Anna Collier (former department chair) and Elaine Roque (current department chair), former SMC coaches Tara Shima and Tim Pierce, and Sergeant Jere Romano and Martha Romano. In the aftermath of a near-fatal accident, Jorge gave a speech in then Communication Professor (now dean) Frank Dawson's Speech class; he stood with crutches, a broken hand, and dentures that had replaced the teeth he lost in the accident. Frank pointed out his courage and tenacity in being able to stand up in front of a class with so much broken in his body, and it's a memory Jorge still holds dear.
Then there was English instructor Ryan Oba, who was "tough" and asked Jorge to write an essay from several points of view, including a feminist one. "This is what I like about [Santa Monica College]. We are here to grow," says Jorge.
"Food brings us together"
Jorge goes beyond waking up early so that he can be at the food bank when it opens at 7 a.m. (It involves sifting through pallets, picking up the boxes of food, loading the truck and driving the truck to SMC's main campus; Jaime Recinos and Paul Lucero, among other volunteers will help Jorge stack the boxes up at the cafeteria). Jorge likes to do his own "customer surveys" as well—he asks student workers what they like to eat; plus, he has researched low-cost meals that can be put together with ingredients generally available from the food bank.
For example: Jorge went to markets like Target and discovered that they sold packs of "90-minute" microwaveable rice. Then, with a packet of precooked chicken tikka masala, he found that it was a complete, appetizing meal. (Through Leah's Pantry—a nonprofit which helps ensure that all people have access to healthy food and feel competent preparing easy, nutritious meals for themselves and their families—SMC students who go to food pantries on campus can now often access information on nutritional values and eating right).
When Jorge overhears students talking about how helpful the free food is, or when a student worker brings him a meal made from something they got for free—he remembers in particular a dish made of soba noodles, which he'd procured upon request—it makes it all worth it. There's something else Jorge would like to do: remove the stigma of receiving assistance, "whether it be financial, for housing, or food."
"In the end our goal is to educate them so that they can move on with their futures," he said. "Food shouldn't be something that students should be worried about. You shouldn't [have to] be worried about what your next meal is. Let's erase the stigmas." (An April 2018 research study conducted by the Wisconsin HOPE Lab found that 43 percent of community college students nationwide felt food insecure).
Jorge, David Dever pointed out, takes extra care of his fellow veterans, making sure, for instance, that they get fresh fruit whenever possible. "We do have that brotherhood . . . that we share between vets," says Jorge. "We have a deep understanding of who we are, what we do, and . . . what we've gone through."
His comrade, U.S. Army veteran, and fellow Bookstore employee Paul Lucero—who introduced him to the SMC Veterans Success Center—says basically the same thing. "I've known Jorge Valadez for about four years now and our camaraderie is strong due to our experiences from service. He understands me and I understand him without even talking at times. Here at work Jorge has helped [me bridge] the connection between military and civilian life. He has been out longer than I have and has been a great asset in helping me get adapted."
On Jorge's generosity which extends beyond work, Paul wrote: "I treasure the times Jorge invites me to go on his hiking travel adventures. Yosemite seems to be his favorite spot and he's always more than happy to show you around. He takes close friends and family with him and to be a part of that is to truly see who Jorge is."
When asked what keeps him going, Jorge says: "I am an optimist. I am always grateful when I wake up. I say, 'I'm alive. Cool, let's go!' I promised myself when I was in the military, when I was 19, that I would never have a hard day in my life. I said [to myself], 'Dude, you can't ever complain about life after this.'"
Jorge says working in the bookstore is the perfect job for him—he's always loved books, and talking to teachers. He enjoys looking up quotes from writers he admires; a favorite from Maya Angelou is: If you don't like something, change it. If you can't change it, change your attitude.
Dean of Education Enterprise Mitch Heskel wrote the following on behalf of himself and David Dever, who is one of Jorge's supervisors:
"When Jorge learned of our new, budding program to supply the food closets, and create the Corsair Farmer's Market, he jumped to the head of the line to help. He volunteered (literally) to go to the Westside Food Bank and get the goods (more than 1,000 pounds each week) and bring them back to campus, and deliver them to the food closets around campus, as well as to the farmer's market. And he always wants to make sure our students have as much as they need, keeping a vigilant watch over supplies and the actual market itself, at times. His dedication, energy and caring are exemplary. And he is constantly seeking out new ways to improve our services. His work goes to the very essence of what SMC stands for."
* * *