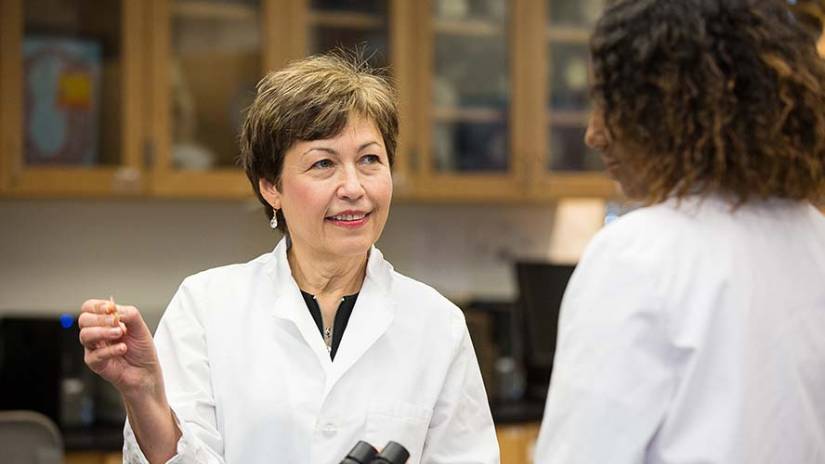 The life's journey of Olga Vagin, PhD, illustrates the importance of interconnectedness. She immigrated to Los Angeles with her husband and daughter 21 years ago from Tashkent, capital of the former Soviet republic Uzbekistan. After just one job interview, UCLA hired her as a research scientist in membrane biology.
Olga first became associated with Santa Monica College in 2004 when students of Life Sciences Professor Mary Colavito were invited by UCLA Professor Jeff Kraut to participate in Jeff and Olga's research. With Mary and another UCLA researcher, David Strugatsky, Olga developed a new course on methods of molecular and cell biology, which she began teaching at SMC five years ago.
Today, Olga teaches SMC's general biology course for non-biology majors and cell biology for majors. She continues her research position at UCLA and also teaches UCLA Extension courses.
"Everything we study in biology is related to our health," she adds. "I think it's really important to make this connection, because students become really interested in understanding the underlying mechanisms when they know how biology relates to their health and the health of their parents and friends."
Born into a family of scientists in Tashkent, Olga says she always expected to enter the field, although she is the only one who became a cell biologist. "My parents, brother, cousins, aunt and uncle were mostly in physics and math," she says. "Even my husband's a mathematician."
Along with the love of science she has felt since childhood, Olga works to instill a healthy sense of skepticism in her students. "I always tell them to doubt, ask questions, and try to learn more. I think this is the beauty of research — and also the beauty of education," she says.
With a maximum number of 32 students so they all have room to work in the laboratory, Olga's classes at SMC are more intimate than those held in large lecture halls of many universities. "At SMC, you can still teach students individually," she notes.
Close connections also play a part in Olga's research. She studies epithelial cells, which join together to shield the body from toxins, viruses and other harm coming from either within or outside the body.
"The mechanism of these tight connections between cells is my main focus," she says. When they function in harmony, proper health is maintained. Disruptions or impairment, however, lead to damage and disease. For example, "cancer cells lose the ability to connect to each other," she explains. "Because of that, they grow on top of each other, not caring about these connections. This is why they form tumors."
Three years ago, a student approached her after class with a surprising reminder of life's connections when she thanked Olga in Russian. "Our daughter volunteered at an organization that helped families adopt children from orphanages in different countries," Olga explains. One time, three sisters — aged 3, 5 and 8 — from Kazakhstan journeyed to Southern California to meet their prospective parents. Both Olga and her daughter helped with translation when they arrived at LAX, and remained closely involved with the family as the trio adjusted to life in the United States.
"These girls are still like family to us," Olga says. The eldest has since graduated from college and is applying to nursing school, while the other two are now in college.
The young woman who became a student of Olga's at SMC revealed she had been at the same orphanage as the sisters from Kazakhstan. In spite of many challenges, this SMC student is, says Olga, a strong person and a hard-working student who dreams of becoming a physician. And, apropos of connections, soon after Olga's discovery, her student was able to connect with the three young women her family had helped. They had not seen each other for more than a decade, and even shared old photos of each other as well as common friends from the orphanage.
Olga has made a habit of forming lifelong connections, including her former high school classmates from Tashkent. "I also stay in touch with my former students," she says. "I'm proud of them. I know that it's because of their own brilliance and talent that they became who they are. But it makes me very happy that I somehow contributed to their journey."