About GPS
SMC's GPS system is an online tool to help you stay connected with your instructors, counselors, and student services. You will receive feedback on how you are doing in class, and how to access services to help you succeed.
SMC GPS allows you to see a better picture of how you are doing through your student information, courses, tracking items, notes, and more! The system is protected under the Family Educational Rights and Protection Act (FERPA).
For more information, view the GPS Student Flyer.
How to Access SMC GPS
You can login below or find GPS on the www.smc.edu website under "Login". You will use your SMC email account and password to login.
Set Up Profile

To update your information, click on your name to open your profile.

Customizations:
Add a photo. Note: Faculty and counselors can see your photo.
Set and request personal email address notifications.
Access text alerts.
Set email reminder preferences.
Opt-in Text Messages
Enter the email address for your phone as indicated below for each provider.
Example: 3235551212@vtext.com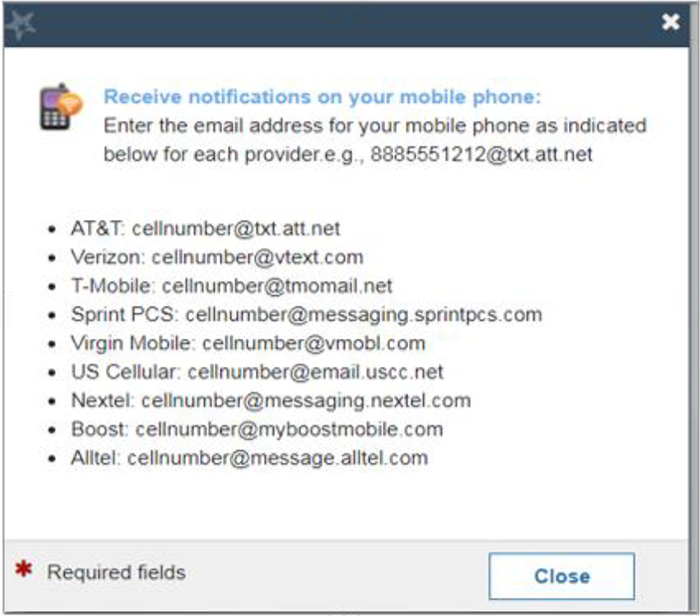 This email address is a combination of the phone number and carrier information. For more information, click on the cell phone icon (far right side) to view the list of common carriers and email address formats.
Text Messages
SMC GPS sends texts that tell you briefly what items were raised. Text messages prompt you to check email for more details.
Example: "‌Prof. Green has given you a 'Keep Up the Good Work' Kudos in Microbiology.
Note: Text messages do not replace emails. It gives you a reminder to check your emails.
Kudos, Flags, and Referrals
Instructors use kudos, flags, and referrals to communicate how you are doing in your course.
A Kudo is raised by an instructor to recognize your hard work in their class.

A Flag is raised by an instructor to let you know they are here to help. Contact your instructor to see how they can support you in your class.

A Referral is raised by an instructor or counselor to help connect you to services, like tutoring, counseling, and financial aid. This support will help you stay on track.
Kudos, Flags, and Referrals can only be viewed by you, the instructor that raised the flag, and any individuals associated with the item, like a counselor.
Raising Your Hand
Students can raise their hand on such items as need help with remote environment, see an Academic Counselor, I logged into GPS!, etc. When raising such items, the majority of the time someone from Student Services will reach out to you with support. Other emails are informational regarding how to received support or schedule appointments with certain departments. Please Note: If you have been given an assignment by your instructor to raise an item, you must raise "I logged into GPS!" and select the specific course you are raising the item for. If you select other items, your Instructor will not see it.
Step 1:
Click on the hamburger (3 lines next to "My Success Network" at the top).
Step 2: Click on Raise Your Hand
Step 3: Scroll through the items and select the support you wish to receive.
Notifications for Raised Items
You will receive an email and text notification (if opted in). When an items is raised, counselors, tutors, or other SMC services may reach out to offer support. If you have questions regarding an item that was raised, contact the person that raised the item.
How to Make an Appointment
Please review the written directions on how to schedule an appointment here.