Parking at SMC Emeritus
Students attending classes at 1227 2nd St. may park in the City of Santa Monica Parking Structure #2, adjacent to SMC Emeritus on 2nd St. between Arizona and Wilshire. Parking rates are set by the City of Santa Monica, and the Parking Structures ar emanaged by the City's parking vendor, SP+.
Emeritus students are able to get a 90 minute validation on top of the complimentary 90 minutes everyone receives, for a total of 3 hours of validated time. However, anyone parking in the structure beyond 3 hours pays the standard rate, per City policy.
Additional Santa Monica College maps, transportation, and campus parking information are available online. For detailed public transit information, contact; Santa Monica Big Blue Bus, 310-451-5444 or TDD 310-395-6024; or Metro, 323-GO-METRO, 323-466-3876.
If you have any Downtown Santa Monica parking questions, please call SP+ Parking Operations office at 310-576-4743. A staff member will happily assist you.
Transportation Options to Emeritus Campus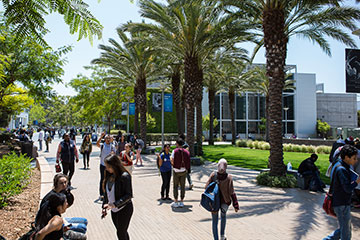 Santa Monica College's Emeritus campus is located in one of the most transit-rich areas of Los Angeles. Parking at this campus is limited to the public structures in the downtown area with limitations on the time so we encourage students to use the many other options available to them.
Try our free Trip Planning tool here: Corsair Commute
It's a free personalized trip planner that provides all options (bike, walk, transit, carpool and car) in one screen, including costs, time, route maps, calories burned and CO2 emitted.
Big Blue Bus (BBB)
Ride Free. Any Line, Any Time, thanks to SMC and the Associated Students. Simply pay your AS fees, swipe your card at the Bursar's office on main campus, then board any BBB bus any time. Several BBB and Metro bus lines service SMC campuses.
New students & staff ID cards are ready to use!
Returning students & staff must re-activate* cards at the Bursar's office on the main campus each semester.
BBB now only accepts payment via TAP.
Expo Train
Emeritus - 4th Street Station (12 min walk)

Main campus- 17th Street (12 min walk or BBB #41 or 42 or SMC shuttle)

PAC campus- 17th Street (10 min walk or BBB #41 or 42 or SMC shuttle)

Center for Media and Design - Bergamot Station (4 min walk)
Bundy / Airport campuses - (catch the BBB #14 from the Bundy Station)
Transferring from BBB to the Expo only costs $.50 when using SMC ID with current AS sticker and TAP card purchased at bookstore on main campus only. Student monthly pass is $43

.

More Expo info.
Mobile Apps
New apps take the guesswork out of planning your trip by aggregating real-time data from nearby transit agencies. Check arrival times, find closest stops, plan your route, weigh your options...so you don't waste your time.
Transit App - Real time schedule updates for all nearby transit options. Google Maps - Trip planning for walking, biking, transit and driving.
NextBus - Real time arrival info & vehicle locations for BBB & Metro.
SMC Shuttles
Big Blue Bus and LYFT Shared provide frequent shuttle service from the main campus to Bundy, Center for Media and Design and the Performing Arts Center.
View the Intercampus Shuttle page.
MODE
Mobility on Demand Every Day.
$.50 Lyft rides around town using MODE, a curb-to-curb, on-demand transportation program for older adults (at least 60 years old) and persons with disabilities (at least 18 years old) who live in the City of Santa Monica. Participate by registering with MODE 310.394.9871.
The Free Ride
The Free Ride is a sponsored shuttle service that loops in the Downtown SM area and Montana Ave. Riders can flag a Free Ride down or text 310-895-9204 for pickup. Just hop on and off as you wish. For more information visit or email Jason Bagley at Jason@santamonicafreeride.com.
GoGoGrandparent
GoGoGrandparent is a concierge-type service that lets people use Lyft and Uber without a smartphone, with rides monitored by 24/7 operators and alerts for families. Call (855) 464-6872 to start.
Carpool, Vanpool and Ride-Hailing
Carpool - Find another SMC rider via www.corsaircommute or check out Metro's Ride Match for a larger pool of drivers in Los Angeles.
Ride Hailing -
-For uberPOOL, use promo code uberpoolsmc2016 for $20 first ride. -
For Lyft Shared, use promo code SMC18 for $10 off your first shared ride.
Vanpool - Find a spot in an existing van or start one.
Waze Carpool
Waze Carpool matches drivers and riders who are commuting from the same location to the same destination at the same time. Be a driver and make a little each way or be a rider and save. *Rides must be set up the day before to ensure it gets matched and confirmed.
Become a member or rent by the hour. Special SMC student rate* is $7 per month for 90 minutes of ride time per day. *Must use your smc.edu email.
Zipcar
Rent Zipcar by the hour when you need a car.
Rent any one of over 100 Zipcars around LA by the hour. Special SMC $15 annual membership rate + pay by the hour (gas & insurance included).
Biking
SMC has many safe bike lanes surrounding all campuses. A local Bike Loaner Program allows you to test bike commuting.
It's important to properly lock your bike. Bikes locked to hand rails and other structures outside of designated bike racks will be impounded. Bike maps, routes, Bike Club info, safety tips, and resources available here.
Bike Repair
SMC Bike Club repairs minor problems (flats & squeaks) for FREE Tue & Thu during club hours at the Pearl Bike Lot on main campus.
Free stand time and bike maintenance support at Bikerowave, for anyone with a current AS sticker on their SMC ID card.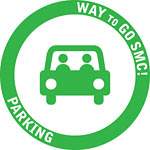 Parking
If you absolutely must drive to Emeritus campus, plan extra time for traffic and parking which are particularly challenging in the downtown area. Parking Structure 2 (PS2) is the closest lot. The first 90 minutes are free in public lots and Emeritus students can get validated for another 90 minutes. After that, the normal rates apply as though you had not validated at all (per current policy of the City of Santa Monica). To park at any other SMC campus you must have a current parking decal. Parking decals for SMC's Bundy and Airport campuses are FREE and shuttles are available to the main campus. There is not currently a shuttle from the Emeritus Campus to either of the other SMC campuses. All other campuses require paid parking decals. Get a parking decal on Corsair Connect or in person at the Bursar's Office.
Pedestrian Zone
All campuses are a mandatory dismount zone. Please ride to campus but not through campus. Dismount from bikes, skateboards, and scooters or risk a citation.
Electric Scooters: At Santa Monica College, we care deeply about your safety. With the recent influx of electric scooters from Bird Rides, Inc., we thought it was important to give you a quick look at the state laws regarding electric scooters, so that you can be safe. Please note that Bird Scooters are NOT allowed on any of Santa Monica College's campuses.
California Vehicle Code (CVC) 407.5(a) defines a motorized scooter as any two-wheeled device that has handlebars, has a floorboard that is designed to be stood upon when riding, and is powered by an electric motor. CVC 21235 mandates that all scooter riders in California:
Must wear a properly fitted bicycle helmet
Have a valid driver license
Ride on the road and remain off sidewalks
May not park scooters on a sidewalk in a position that blocks pedestrian paths
Be very aware of your surroundings as you may not be seen or heard by other vehicles. Drive cautiously and defensively. Please be safe and be a responsible rider. Use common sense: don't forget that these scooters are motorized vehicles, not toys, operating on streets.
If the maps on our Transportation web pages are not accessible to you, contact Manuel Islas by telephone at 310-434-3554 or email at islas_manuel@smc.edu.
Transportation Task Force at SMC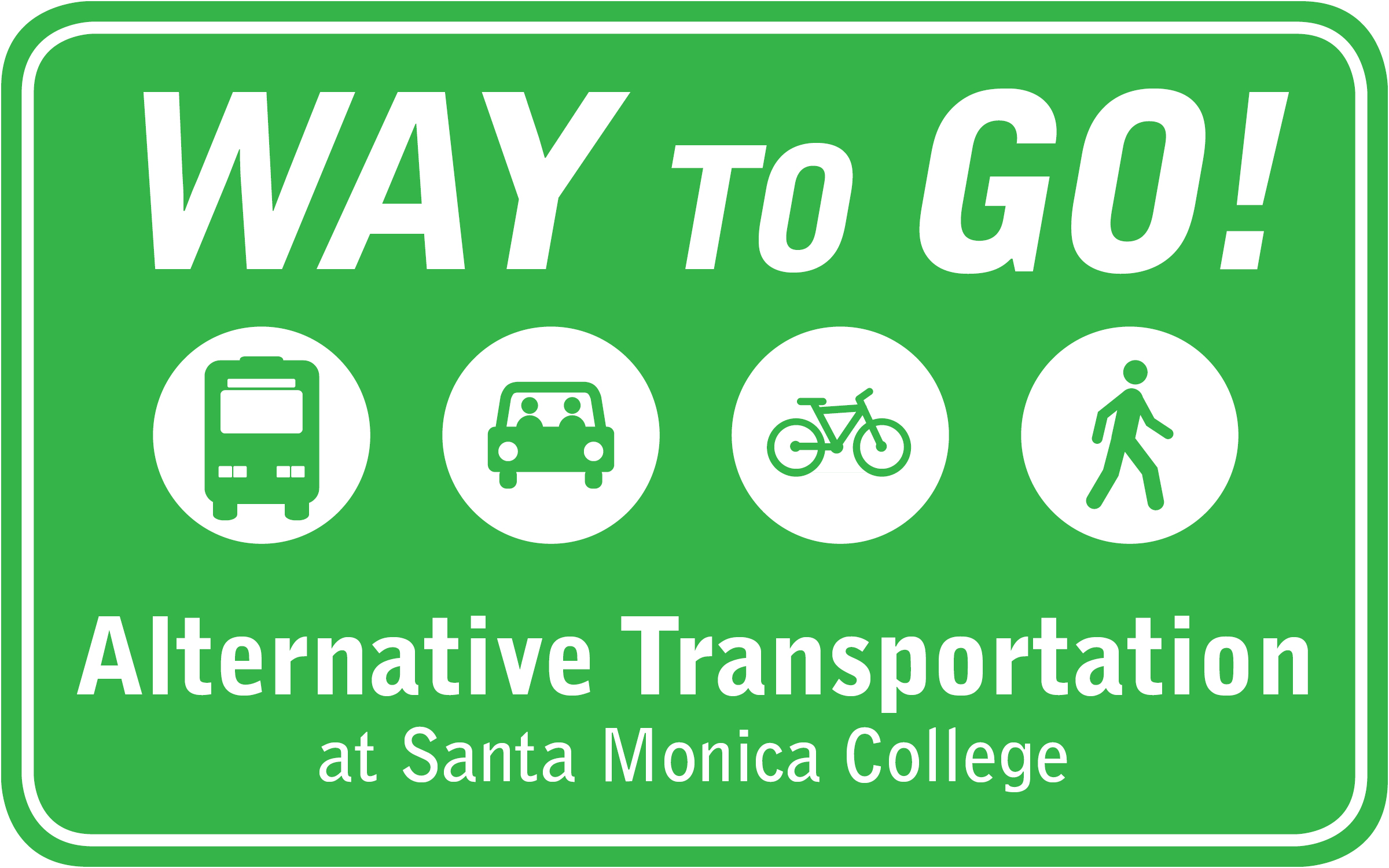 Interested in being a part of the solution? Attend the Transportation Task Force meetings on the 1st and 3rd Wednesdays of each month from 1 – 2:30 pm. Meetings located at 1744 Pearl Street.
A draft of the new sustainable transportation plan can be found here: Sustainable Transportation Planning Matrix