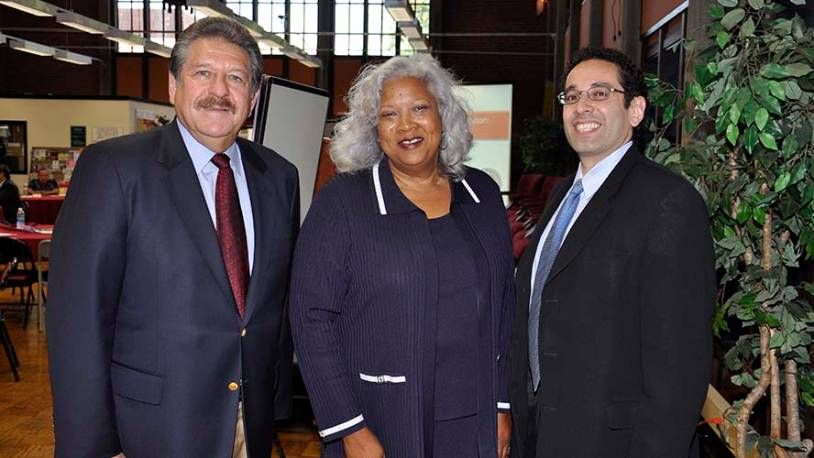 You may know by now that Dr. Kathryn E. Jeffery – Santa Monica College's new president – brings over three decades of higher education experience to her role as CEO of California's leading transfer college. She also enjoys a complicated version of Scrabble, using only words that relate to a theme. A woman who met Dr. Jeffery once recounted how the college president not only remembered her months later, she even calculated (precisely) how old her baby was by then.
Dr. Jeffery is also a classically trained contralto and pianist, but loves jazz standards. A few days ago, she heard "Fly Me to the Moon", and recalled singing that song while her mother accompanied her on the piano (she was named Kathryn after her mother's music teacher).
"That's how I feel about coming to Santa Monica College," says Dr. Jeffery. "Maybe not exactly flying to the moon, but I am in a new and exciting world!" She adds that she already feels a blossoming love affair with SMC, and is "…really, really antsy to dig in, and embrace it."
She tries to count the reasons for her excitement: that Santa Monica College not only offers the best to students who want to transfer to four-year schools, but through outstanding job-training and lifelong programs like College, serves the whole community, at all points of their lives and careers. The fearless and forward-thinking SMC attitude was also a huge attraction for her.
Dr. Jeffery comes to SMC after serving nearly eight years as president of Sacramento City College (SCC), but her career in higher education has been truly diverse. Before becoming an administrator, she taught for over twenty years including in SCC's counseling and humanities/fine arts divisions; she also taught graduate courses in educational leadership at California State University, Stanislaus; the University of Nevada, Las Vegas; and Drexel University. She was President of Hennepin Technical College in Minnesota; Provost/Chief Campus Administrator at the College of Southern Nevada; Vice President of Columbia College in the Yosemite Community College District; Dean for Faculty and Staff Diversity/Development; and Dean for Student Services at the California Community Colleges Chancellor's Office.
Needless to say, SMC in Focus had lots of questions for the new president, and she was kind enough to indulge. Read on.
What excites you the most about what lies ahead as you lead Santa Monica College?
Kathryn Jeffery (KJ): The opportunity to join a college that has been so progressive over the years! What excites me is how this College takes something it does "well", and becomes "the best" – the way you did with transfer. You look at ways to position yourself with an eye on the future. Also, you are very creative and not locked in a box. You don't just see what you've done well as your niche – I mean, the way SMC has taken a leap into the next decades by getting a Bachelor's degree in a futuristic discipline like interaction design is really forward-thinking. It shows how we are not afraid to open new doors for our students. And I find that exhilarating.
Do you have a vision for Santa Monica College?
KJ: It's a bit early to say that I have a vision without talking to the campus community, and learning about what's important to Santa Monica College. What stands out is this notion of being the best, so I want us to continue to be the best at whatever we do. I want to help identify what I am going to call our NBT: the Next Best Thing. I don't know what it is yet; but, throughout its history, SMC has been fearless and willing to take creative risks – and it has paid off for our students and our community.
Your past experience in higher education is extremely diverse – arts education, student services, career technical education (CTE) – is there something you feel will be especially relevant to your job as CEO of Santa Monica College?
KJ: I value the experience I gained in CTE as president of a technical college (Hennepin Technical College, Minnesota). I think the job training function of community colleges is as important as our general education side, because both play a major role in building communities.
My father was a machinist for military airplanes and he had to do all his precise calculations with a pencil and paper! And today it's all computerized. Because of working at a technical college, I learned how all these industries have evolved and require high levels of skill. Plus, it gave me a great appreciation for everything I look at – say packaging for a stapler, or the stapler itself – and now I know that a highly trained person ran the machine that made it. I really appreciate how in California, community colleges emphasize both transfer education and career technical education. I bring that perspective and value to SMC.
And then, I really enjoy the way community colleges can have a meaningful relationship with the community it serves. I love the friend-raising part of my job. Our 100 year anniversary is getting close! That's a long, long time…I look forward to knowing the community SMC has served over the years.
I also love the arts and I think SMC – because the arts are such a part of it – will give me the chance to more deeply nurture my connection to the arts.
You got a Bachelor of Music Education at Oklahoma State University, then went on to get a Master of Science in Counseling – what caused you to make that switch? (Dr. Jeffery also holds a PhD in educational administration from the University of Texas at Austin)
KJ: I studied music from the age of six, so it wasn't a complicated choice. I didn't think music would be challenging, but it was. I majored in piano and minored in voice, and the university took me to a whole new level. I remember my voice professors saying I should have majored in voice. However, when I switched to counseling in graduate school, it was because I realized I was a good listener. I had the ability to not just hear what people were saying, but also to hear what they weren't saying: to fill in the gaps. In counseling, a large part of what you do is listen…people often don't need someone to give them answers but someone to point them in the right direction, to see the answers more clearly for themselves. I felt I was good at that as a counselor.
Now that there's all this system-wide emphasis on closing the equity gap – making sure all students have an equal shot at success – how do you think we get to a place of true change?
KJ: SMC has already made strides that put us further ahead than other colleges. We're already transferring more students of color to the University of California, and there are many established student services programs like Adelante and Black Collegians, and newer initiatives too. I think SMC is unafraid to address issues of disparity. I've talked to a few SMC students, from diverse ethnic groups – men and women – to get their opinion on how they are treated. This was not a scientific study by any means, but they said they had a positive experience. So students feel welcome, and that's a big first step. It will be important to hear from underrepresented students – not just students of color, but say, those pursuing careers in which their gender is underrepresented – and see if they can help inform changes needed. It's too early for me to say what we can be doing better, but by being unafraid of the topic, and looking to identify areas of possible change, we are far ahead of the game.
What are you reading right now?
KJ: It has nothing to do with education! It's called The Weird Sisters by Eleanor Brown. It's about these three sisters, their relationship to one another and their parents. I guess I'm in that space where I'm reflecting on my relationship with my own sisters, so it resonated with me.
Do you have a mantra – something you live by?
KJ: Yes! It's something I had to learn when I was pledging a sorority. It's called "Excuses" and it goes like this: Excuses are the tools of the incompetent, they build monuments of nothingness and those who dwell upon them are seldom good for anything else. I try not to make excuses – excuses are usually about why you didn't do something. "I was late for this because…" or "I couldn't get this done because…" I want to be a leader who always looks for solutions and ways to make things happen, rather than make excuses for why things didn't happen.
Is there someone who has been a particular inspiration to you?
KJ: That's a tough one – there have been so many. I have to say, I respect the work of my parents more as I get older. I honor the work my father did, working with his hands. I respect how they had so little, and yet they instilled in all six of us the importance of education. My father never went to college, and my mother had one year of college. But they felt that education, once achieved, would open doors for their children. And they were right.
Well, our guess is they are proud of you.
KJ: I hope so.
A press release about Dr. Kathryn E. Jeffery's appointment as Santa Monica College's Superintendent/President – with more details on her professional background – is available here.