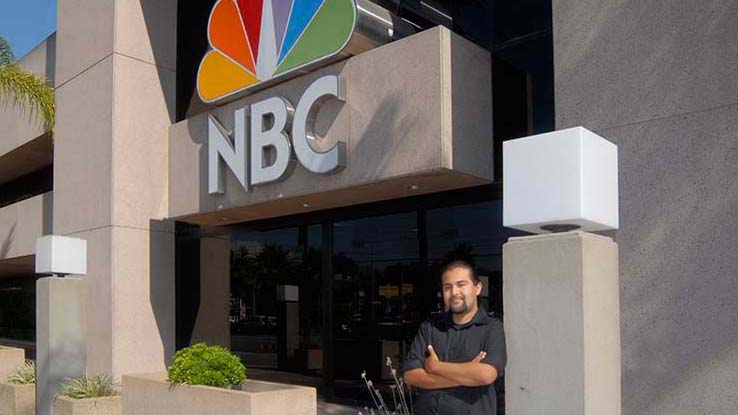 Although more media outlets exist than ever, the greatest barrier to success in the entertainment industry remains getting that initial job. Since 2011, the 25 students selected each year for the Promo Pathway program at Santa Monica College (SMC) take an inside track to achieving their dreams. The 10-month program cultivates student creativity while teaching how to write, produce, and edit TV promotional spots.
"It's an intensive program that builds those transferable skills – it allows them to enter the industry and thrive immediately," says Steve Kazanjian, president and CEO of PromaxBDA, the global entertainment marketing association and SMC's partner in the program. Now a state-approved certificate with transferable units, students can also pursue an associate degree in "promo": entertainment promotion/marketing production. SMC is the first community college in the nation to offer this degree.
PromoPathway grew out of a desire to recruit under-represented creative talent into the entertainment field. When PromaxBDA — and the South Bay Center for Counseling, a former partner — sought a college to provide the training, they found a perfect match in SMC.
"Companies don't have the luxury to train people," Kazanjian notes. "But they are looking for inclusion, because viewers are so diverse that you need diversity of thought to drive real returns on investment."
"Students who come through a program like 'Promo Pathway' are equally qualified — or even better qualified — than students who have earned a bachelor's degree," says Frank Dawson, SMC's Associate Dean of Career and Technical Education.
In fact, says Dawson, "…we are getting increasing numbers of applications from students with bachelor's degrees who come here to get the kind of relationships and training they need to land a job."
Antonio Benitez is one such example. After serving in the U.S. Marines, he attended SMC and transferred to California State University, Dominguez Hills. Still, even with a bachelor's degree in digital media arts, he struggled to find work in the field he loved. "I went back to Santa Monica College and started taking classes in video script writing — anything like that I could get my hands on," he says.
An opportunity came his way fairly quickly, when an SMC job fair led to an internship at the local Fox affiliate. He was already working at Fox, scheduling promotional spots for shows such as The Simpsons and American Idol, when he heard about Promo Pathway, which was then recruiting its inaugural cohort. Out of more than 300 applicants, Benitez was selected as one of the first 25 for the program.
He took a leap of faith and quit his job – even after they offered him more responsibility and money – so he could focus on gaining new and more marketable skills through Promo Pathway. After the program, he interned at Lifetime TV. This time, he says, "as an intern, I was producing stuff that was actually getting on the air."
He is currently a writer/producer for on-air marketing at Lifetime, where he has worked full time for four years. "I wouldn't be in the position I am now if not for SMC," he says. "Its resources and network helped me on my career path. I will probably take additional script-writing classes there, because SMC is a school I trust – it's my go-to institution. I'm hugely indebted to the college, to Promo Pathway."
For Chris Alford, who completed the program in 2015, Promo Pathway led to a foot in the door at NBC Universal as a video apprentice for the entertainment and marketing department. The job will further his training as a writer/editor. He concurs with Benitez – that he would not have been considered for this opportunity – if not for the SMC program.
A returning student, Alford had previously studied film and graphic design. "Promo Pathway just seemed like a perfect integration of all the things I love," he says. "In TV promos, you can incorporate not only visuals, but also music and voice-over and sound effects…all these great things to sell TV shows." But the key skill Alford developed in the program, he says, is storytelling.
Originally from Russia, Irina Murasheva moved to Los Angeles with bachelor's degrees in law and language translation but no set career goal. "This program really opened my horizons," she says. "I got a lot of useful advice from our professors and guest lecturers. Also, I realized the importance of networking." She is currently interning at Vox Pop Films, which produces documentaries and commercials.
Whether she ultimately goes into entertainment marketing or becomes a writer/producer/editor, Murasheva is confident that Promo Pathway has armed her for long-term success. "There are so many opportunities in this industry, and I'm sure the skills the program gave us will be transferable to whatever career I choose."
As in every endeavor, the Promo Pathway to success depends on hard work and the expertise students develop.
"We don't guarantee the internships," says Kazanjian. "You still have to be good, because no one's giving out charity, but with the access the program provides — both in terms of connections and skills — it's an extraordinary opportunity."
For more information about this highly competitive program, visit smc.edu/promo or call 310-434-4182.