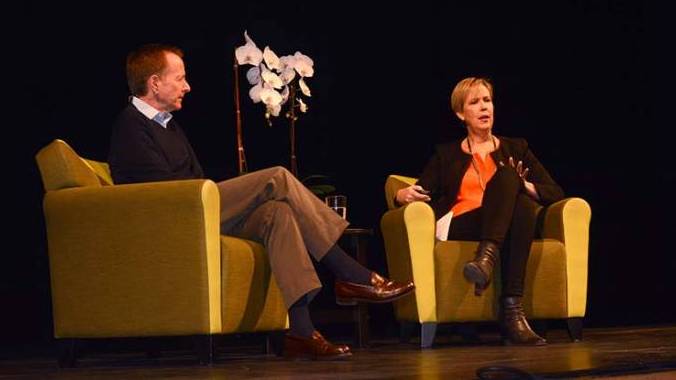 Although he dreamed of attending a four-year university, Jay Lopez enlisted in the U.S. Marine Corps after high school to support his single mother and younger siblings financially. After service that included deployment to Iraq, he found himself back home in Los Angeles, unsure of his next step. He happened to see a listing for a modern dance class at Santa Monica College. Despite never taking a dance class before, he had a "gut feeling" he should enroll.
"I figured if I could survive war, I could probably survive a dance class," he said. After one class, he was hooked, and decided to become a dance major.
A year later, Jay attended the annual symposium presented by the SMC Public Policy Institute (PPI). At the event, he met PPI founding co-director and SMC Political Science professor Richard Tahvildaran-Jesswein backstage, and the encounter would lead to a whole new path.
The symposium's focus that year was on public policy and the arts/cultural affairs, and Jay saw an opportunity to combine his interests. Soon, he was enrolled in classes on public policy offered through PPI and, in 2015, he earned Associate degrees from SMC in both dance and public policy.
Jay fulfilled his dream of going to a four-year institution, and is now at the University of Massachusetts Amherst as a dance major. He eventually wants to become a master choreographer, as well as an arts advocate.
"The arts are a powerful tool for change," said Jay. "The PPI program developed my skills, knowledge, and passion, motivating me to think bigger about how I can contribute to society." In addition to the arts/cultural affairs, the Public Policy Institute's other areas of specialization include education policy, environmental policy, and urban/socioeconomics policy.
Jay chose to focus on arts policy, but he also participated in PPI's public health policy symposium the following year. "No matter what your area of interest, you gain an additional perspective on your field of study through PPI," he said.
"Public policy forums allow students and the public to hear from and interact directly with policymakers about the decisions they are making and why and how they make them," said PPI Founding Director and Los Angeles County Supervisor Sheila Kuehl, who previously served in the California State Senate and State Assembly. Kuehl was also the keynote speaker at the last PPI spring symposium, and gave SMC students an overview of how LA County prioritizes health services and their delivery.
The atmosphere at PPI is collegial, yet challenging. In addition to getting to know their professors and peers, students also meet and learn from policy experts and civic leaders who serve as guest speakers at PPI forums, and the annual symposium. Last fall's symposium featured Austin Beutner, former publisher of the Los Angeles Times and civic leader, and Joanne Heyler, chief curator and founding director of the Broad Museum, among others.
Students also benefit from unique collaborations with Arizona State University and American University in Paris guaranteeing admission for qualified graduates of SMC's PPI program.
Learning at PPI is an active experience that extends far beyond the classroom. Experiential learning opportunities – including internships that put students to work directly with government, nonprofit, and business leaders while preparing to join their ranks – enable students to apply their growing knowledge in the field of their choice. PPI's collaborative relationships with dozens of community organizations expand student horizons through mentoring, training, and hands-on experience, helping students build invaluable professional connections.
PPI's interdisciplinary, nonpartisan programs ensure that students interested in public policy, but unsure of their specific aims, find their calling. Andrea Reyes, for example, realized she wanted to preserve the planet. "Through PPI, I explored the environmentalism track and discovered how passionate I am about protecting natural resources," she said.
"My experience with the Public Policy Institute was nothing short of life-changing," said SMC PPI alum Jennifer Barry. "I was given multiple opportunities to apply my knowledge about the inner workings of public policy to real-world scenarios."
Whether students earn a Certificate of Achievement or an Associate degree, and whether they go straight into their profession or transfer to continue their education, PPI instills in them the skills, confidence, and resourcefulness necessary to meet the critical challenges facing society today – and in the future.
Visit smc.edu/ppi or call 310-434-3541 for more information.