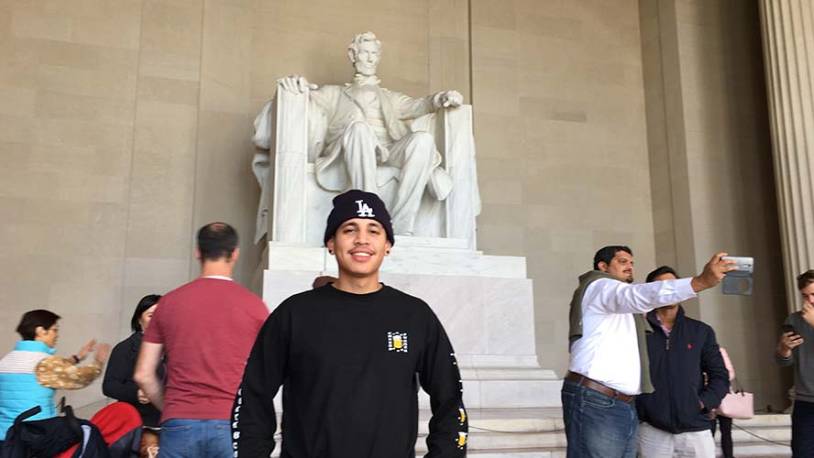 "I had never been on a plane before, so my nerves were all over the place," said Santa Monica College student Michael Saldivar, who flew to Washington, DC, this fall to present an innovative photovoltaic project at a conference organized by the American Association of Community Colleges and the National Science Foundation (NSF). "I've never been to the East Coast," he added, "so I was happy the Sustainable Technologies Program gave me the opportunity to travel."
Michael, an electrical engineering major, shared a presentation booth with fellow SMC student Christopher Molina at the Advanced Technological Education conference. They demonstrated how to determine the maximum electrical output of a solar cell—an electrical device that converts sunlight directly into electricity—to hundreds of attendees from across the nation.
The demonstration was based on training modules developed for a photovoltaic class by SMC physics professor Steve Paik, with contributions by SMC mathematics professor Ebrahim Jahangard. The multi-departmental effort began more than two years ago with "Enhancing Solar Photovoltaic Education," an NSF grant that provided outreach to 750 high school students, and developed internships to place 15 students on career paths in the solar industry.
SMC renewable energy professor and NSF-grant Principal Investigator Stuart Cooley also presented some of the exciting new technology used in his photovoltaic and energy efficiency classes. One example is a 360° Virtual Reality camera with a headset that can "place students in an immersive learning environment, allowing one to experience the sights and sounds of an outdoor, live-training environment in the safety of their classroom seat," says Stuart. "Having that first-person perspective helps engage students and brings a little more realism to the classroom-based learning."
High-Tech Advancement
SMC's nationally recognized Sustainable Technologies Program was launched in response to the rapidly expanding need for skilled workers in the "green jobs" sector. The program provides students with top-of-the-line training for employment in solar energy, recycling, resource management, and other sustainability-oriented industries.
Solar jobs growth rates are in the double digits — 14 percent in manufacturing and 26 percent in sales. About one in 80 new jobs across the country is a solar job, according to Labor Market Information.
"Hiring is ongoing in this industry, and SMC students frequently land a job before the end of even one semester!" says Stuart. "More and more companies are recognizing the value of a multiple-skilled worker who can address several aspects of sustainability, not just one."
The Sustainable Technologies Program offers students the opportunity to gain industry-recognized credentials through certificates of achievement and department certificates in Solar Photovoltaic Installation and Recycling & Resource Management, and a department certificate in Energy Efficiency. Students can also earn an Associate degree in Solar PV Installation and in Recycling & Resource Management, a workforce development program established by a U.S. Department of Labor grant and pioneered by Santa Monica College.
Students in the Sustainable Technologies Program progress at their own speed, and can enter and leave the program as their personal and professional needs change. To develop internships and volunteer opportunities for SMC students, the program partners with local installation companies like Solar City and nonprofits like Grid Alternatives, which installs solar panels on low-income homes.
"SMC has a very student-friendly environment," says Michael, who is one of about 25 in this semester's sustainability technology cohort. "The faculty and students promote a great learning atmosphere. The school provides plenty of resources, and has a number of extracurricular clubs and activities that you can involve yourself with. A majority of the professors are wonderful at teaching, and actually care about their students."
This innovative program is just one facet of SMC's efforts to create a sustainable future; the college also won the Community College Leadership Award in Resource Management from the nonprofit Green Technology for establishing a resource management program on campus through its Center for Environmental and Urban Studies (CEUS) and Facilities Department, and in 2014, SMC became the first community college in California — and one of only two nationally — to earn a "Bronze" designation for a bike-friendly campus from the League of American Bicyclists.
You can read more about SMC's sustainability efforts overall. Visit smc.edu/stp for more information on the Sustainable Technologies Program.
* * *