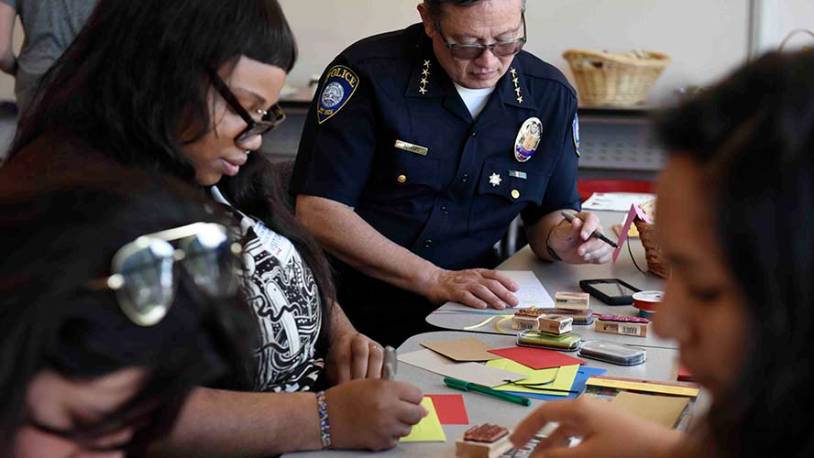 Raising money to support cancer research, collecting clothing and toiletries for foster children, and collaborating on a new play may not be the first things that come to mind when you think about law enforcement, but they are all part of how the Santa Monica College Police Department (SMCPD) serves the campus community, and helps make SMC a safer place to be.
SMCPD officers have a long history of community involvement, for both personal and professional reasons. "If we're doing something to make our community a better one, then maybe we're also going to make this a safer place for everyone," says SMC Police Chief Johnnie Adams, who has spearheaded an expansion in the department's community outreach.
But the credit goes to the entire department deserves for its commitment. Officer Steve Hearn invited his colleagues to join the Pink Patch Project, a collaborative effort among more than law enforcement agencies in Los Angeles County to raise money each October for Breast Cancer Awareness Month.
Some 17 years ago, Sergeant Mark Kessler launched SMC's participation in another important cancer fundraiser: Relay for Life. Today, Sergeant Jere Romano has taken the lead on the relay project, as well as the department's initiative to help veterans returning from deployment. And many SMCPD officers volunteer their time after hours at a variety of community organizations such as the Boys and Girls Club.
Bringing the Community Together
After kicking off with a barbecue fundraiser, "the Pink Patch Project just took off," says Captain Ray Bottenfield, who was awarded a 2013-14 Public Safety Officer Medal of Valor by President Barack Obama for heroism in the line of duty.
"It's really brought our SMC community together," Chief Adams says of the project. "It started out with one thing from the police department that turned into an entire college effort, where the SMC Foundation, the Associated Students, and other campus groups got involved." (SMC raised more than $6,000 for the Pink Patch Project; 82 agencies raised roughly $300,000 in total).
Many of the SMC Police Department's philanthropic projects address needs that are relevant for many of the students they protect and serve. For instance, in November the department partnered with the Santa Monica Police Department and the Manhattan Beach Police Department on a drive to support Hope in a Suitcase, a nonprofit that collects new and gently used clothing and supplies for children entering foster care. SMC provides educational and other support services to current or former foster youth enrolled at the college through its Guardian Scholars Program.
"The SMC Police Department is breaking down barriers through its philanthropic work," says Debra Joseph-Locke, the senior student services specialist who oversees the Guardian Scholars Program at SMC. "It gives the officers the opportunity to make a closer connection with students, and to be viewed more like faculty."
She adds that several Guardian Scholars signed up to participate in the Hope in a Suitcase drive, to write notes of support that went into the bags being assembled. "They see themselves in those younger foster children," she says, "and they like the chance to pay it forward."
In December, the SMC Police Department will also collect toys for families of veterans, as well as canned goods to stock local food pantries. "We have quite a few homeless students on campus," Chief Adams notes.
"People don't realize how much these kids sacrifice trying to get their education," adds Captain Bottenfield, "or how hard they push trying to make a future for themselves."
To help those who are hungry on campus, the department plans to "host events where if you bring donations for the food pantries, you can get free tacos," says Chief Adams. "Or, if you're a homeless student, you can just come by and have a meal. These interactions build a stronger campus community for all of us."
Encouraging Dialogue
The SMC Police Department's outreach can be creative as well.
For instance, the department brought a new play on domestic violence and sexual assault to the attention of the SMC Theatre Arts Department, which will produce the play's California premiere next spring. The SMC Police Department is also seeking sponsors for the production, which is told from the perspectives of three children, three college-age students, and three older adults. Chief Adams says he hopes to support panel discussions and other outreach efforts on the subject for the greater campus community. "I think a play is a really good medium to educate and encourage a dialogue," he adds.
Fostering those types of conversations is fundamental to the department's role.
"Our environment allows us to get out, walk around, and engage with staff members and, especially, students," Sergeant Kessler says. "Our goals are to make contact and be high-profile and approachable, so we're heading off something before it happens. We're not enforcers; we're preventers."
To increase his own accessibility, Chief Adams even gives out his cellphone number to students, which is "pretty unusual" for a police chief, he admits. "I'm not getting crank calls, though I joke and tell the kids that, 'If you do crank call me, I will track you down.' When people do call me, they're calling for a good reason. If I can get my department involved, or other police departments involved, to make their lives safer, then that's what we're going to do."
The department is also engaging in dialogues with students on such vital societal issues as the relationship between police and minorities. "There's so much controversy, as you see in the media, where it's almost like an 'us versus them' mentality," Chief Adams says. "We're all part of the human race."
In October, the SMC Police Department met with the SMC Black Collegians for an open forum discussion on how they could work together to foster understanding and empathy. "The power of the students, collectively, needs to be leveraged," Chief Adams explains, "so we can build bridges of understanding here, and extend them nationwide."
These bridges are being built at SMC, and those who protect the campus and its community are actively moving the college forward in more ways than one.
* * *