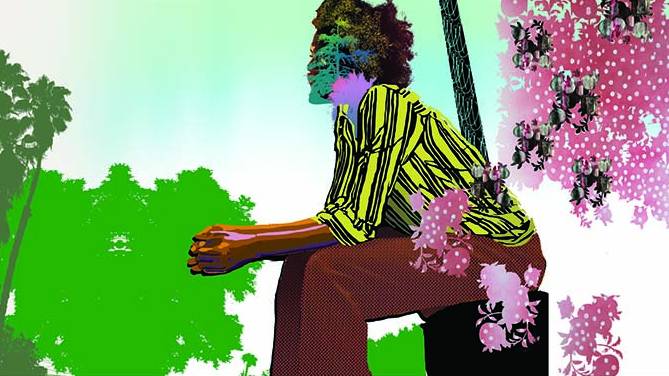 Artist and SMC professor Carlson Hatton is busy developing his artwork for Hyde Park Station, part of the Crenshaw/LAX Line—and several SMC students have been enlisted to help him out! Inspired by his many explorations in the community, Carlson's concept is to capture the musical vibrancy and historical legacy of the area in a fresh and contemporary manner. Read more—and check out pictures—at The Metro's blog, The Source.
Alisa De Los Santos and Mandy Matthews of The Broad Stage's Education & Community Programs division are excited to share that SMC dance students had two successful and meaningful master classes in partnership between The Broad Stage, SMC Dance Department, and reputed LA dance company, BODYTRAFFIC in October. Artistic Director Lillian Barbeito and BODYTRAFFIC company members Joseph Kudra and Lindsay Matheis taught students Countertechnique and repertory from their performances at The Broad Stage. The SMC students were eager to learn, and BODYTRAFFIC enjoyed working with such well-prepared students.
Dr. Karen S. Gunn, retired SMC Psychology professor, is pleased to report that she has been re-elected as Chairwoman of the Santa Monica Bay Area Human Relations Council (HRC) for 2016-2017. The HRC is a non-profit organization that promotes a culture of fair treatment, inclusion and equal access to opportunities. The council includes other SMC representatives: Superintendent/President Dr. Kathryn Jeffery, Communication Professor Tim Conley, and HR Dean Sherri Lee-Lewis.
Ish Shabazz, who works in the IT department as a network engineer, also works on apps in his spare time as an indie developer. He recently worked on a sticker app for iMessage called Stamp Pack (it has nearly 300 words and phrases styled like rubber stamps). Preview the Stamp Pack app and purchase the Stamp Pack app.
Fashion has a conscience! SMC Fashion Professor Lorrie Ivas, plus Ferris Kawar, Gina Garcia, and Kaya Foster of Sustainable Works joined forces with the EcoDiva and Founder of Beyond the Label Taryn Hipwell to organize a panel discussion on fashion sustainability and human rights labor issues addressed in "The True Cost" documentary at Santa Monica's Aero Theater on Sept. 29. The panel included Shelly Gotschamer from Outerknown, the sustainable menswear brand founded by pro-surfer Kelly Slater; Karl Bruskotter from the City of Santa Monica Office of Sustainability; Lorrie Ivas and Taryn Hipwell. The panel was moderated by Garrett Gerson of YSTR, an ethically-made, no-waste clothing company. Guests included SMC Fashion Advisory Board members, including Marta Miller, owner of Lefty Production Co., the downtown LA production company catering to sustainable brands. Merchandising and Design students participated in the first "Chop Shop" competition for Style and Sustainability, submitting upcycled/recycled garments and accessories produced from discarded or damaged clothing. These will also be included next June at LA Mode 2017, SMC's annual runway show.
This fashionably meaningful success was followed up with SMC's Gina Garcia and Lorrie Ivas working with Taryn Hipwell on her Beyond the Label fashion show on November 17. Sustainable high-end fashion brands, Santa Monica area thrift and vintage stores' fashions, and SMC students' work from the "Chop Shop" were featured on the runway and were also displayed at the historic Santa Monica Bay Women's Club. Under the direction of Photography Professor Ed Mangus, SMC photography students covered the show.

And last but not the least, Lorrie Ivas is also proud to report that she led The Fashion Group International Spring/Summer 2017 Trends Professional Networking event on November 15 at the ROC on Arizona.
Nichelle Monroe, Administrative Clerk at the Science Learning Resource Center, has musical accomplishments to share! She was a featured vocalist for WCIU, the Chicago TV station. View the Nichelle Monroe promo. Nichelle's band "Nichelle Monroe & Butterfly" has been newly selected to be a part of the Los Angeles County Arts Commission's Musicians' Roster. She will be joining other talented artists, who were also chosen for this prestigious list of entertainers. Nichelle Monroe's website.
SMC Police Sergeant Jere Romano—also a member of American Legion Post 283—became the first person from Post 282 to go to the National American Legion College held Oct. 23-28 in Indianapolis. The Legion College is open only to members who are veterans of the Lebanon/Grenada, Panama, or Gulf Wars or War on Terrorism-era. Sgt. Romano spent full days learning the organization's core values, public outreach, media relations, among many other things.
Sustainable Technologies Professor Stuart Cooley and students Chris Molina and Michael Saldivar went to Washington, D.C. to demonstrate their National Science Foundation-funded modules developed by SMC Physics professor Steve Paik and math professor Ebrahim Jahangard. It was Chris and Michael's first time in the capital!
English professor David Burak had a poem "Cautionary Tale," published in a new book, FROM THE FINGER LAKES - A Poetry Anthology (The publisher is Cayuga Lake Books, in Ithaca, NY). This piece was well received when David participated in a reading, along with Roald Hoffmann (Nobel Laureate in Chemistry) on campus last spring. Hoffmann also has a poem in the new anthology, along with Alice Fulton (a MacArthur Award winner) and Diane Ackerman.
Computer Science professor Jinan Darwiche sent in the following brag about "a noteworthy cause": Santa Monica College was recently awarded the Textbook Affordability AB798 funding. The college's proposal ranked #4 among 45 accepted applications. While the funding is modest—$50,000—it will enable SMC to move 50 more sections from departments like Physical Science, Computer Science, and English from using traditional high-cost textbooks to free Open Educational Resources (OER). The projected savings to students will be in excess of $600,000 in a one-year period!
SMC Police Chief Johnnie Adams is pleased to report that Santa Monica College conducted a successful Great California Shakeout earthquake preparedness drill—one of the few campus-wide drills in California. Thousands of students were evacuated from their classes to designated evacuation zones throughout the college. SMC set up a mobile command post, utilized their vast network of building monitors, and tested all emergency notification options that exist to inform our community of safety procedures.
English professor Mario Padilla has a few literary brags: his stories "Keeper of the Gate," and "In the Time of Water" made the short list for the Tulip Tree Review short story contest. And his short story "Shattered Cup" was one of five finalists in the Slippery Elm short story contest.
Roxanne Captor, adjunct faculty in Media and Theatre Arts, was on the red carpet at the 2016 Emmys. Roxanne has been a member of the Academy of Television Arts and Sciences since she was nominated for a prime time Emmy in 1989 for a CBS Movie. She now serves as a judge for the prime time Emmys and the Television Academy College Awards, and is also on the Producers Peer Group Executive Committee.
John Frederick of the English department has two books coming out in February 2017 from Rare Bird Books/Publishers Group West: an epistolary satire/comedy set in ancient Rome called Your Caius Aquilla, and an film exegesis entitled Fucking Innocent: The Early Films of Wes Anderson. John will be reading from the Wes Anderson book at the South By Southwest Film Conference in March 2017.
Teaching students how to do the numbers, for their own benefit, is…well, a number one priority for SMC professors! Accounting professor Jenny Resnick, along with her colleagues Greg Brookins and Cesar Rubio held several personal finance workshops in the fall semester—all well-attended. Topics covered included savings, compounding of interest, tax, financing of education and budgeting, wise spending and use of credit, and smart investment. Chemistry Professor Dr. Roman Ferede has two accomplishments to share: one personal, the other involving her students. During her sabbatical leave in 2008, she did research at the International Institute Tropical Agriculture, and in 2010, she published a paper entitled Identification and quantification of major carotenoids of deep yellow-fleshed yam. Roman continued the work with her collaborators, and this year, published a second paper entitled Characterization and Classification of the Provitamin A carotenoids of Deep Yellow-fleshed Bitter Yam.

Three of Roman's students attended and presented two scientific posters at Louis Stokes Midwest Center of Excellence, a National Science Foundation-funded conference in Chicago. 130 posters from 46 colleges and universities were presented. Roman and her students were able to attend the conference thanks to SMC's Global Citizenship committee and the conference organizers. The students wrote about their experience:

(Simon Valenzuela) "Being able to travel out of town and go to Illinois was a great experience for me especially since I don't get out much. Even though it was late October, the cold had yet to set in and most of the forestry surrounding the Aurora area was still green and vibrant. Once we arrived at the hotel where the conference would be held, I saw some of the students who would be presenting later that night and they were very well dressed. Their professional presence added more to the atmosphere and got me in a mode where I felt I needed to be great, that I needed to shine as brightly as they did. I would liken it to how sports teams rally around each other, one guy says something that gets another guy going and it just goes around like an infection. Before you know it, you're prepared to do whatever it takes for your team and lay it all down on the line for your team to be successful. An enormous sense of pride had washed over me and I was prepared to be great. The keynote speaker for the first night's dinner, Dr. Terrell L. Strayhorn…not enough could be said for how moving his speech was. As the youngest professor in Ohio State's history, he had a way of connecting with everyone in the room both because he was young and because he was a professor. He spent a great deal of time talking to us about the struggle for finding belonging as an undergraduate and about the relevance of our work as academics. He seemed to put everything into perspective, it made everything that I had done up to this point seem relevant and worth it. But much of what he was saying didn't sink in until he began to tell us about his experience in dealing with his grandmother's death. He started off by talking about how she was his inspiration because she had been a lifelong educator, but it all came to a halt once she had an aneurysm. It was very tragic for him because before that point she had been the light of his life, always guiding him but she could no longer speak let alone say his name. It struck a chord with me because I too found myself in a similar situation where I wished I could have just one more word with someone who was passing, except in his case it ended in the most miraculous and unexpected way. He sat beside her bed day after day holding her hand, waiting for her to say something, and then there came a day when she suddenly said "Hey Rell!" She began to sing a hymn that was their favorite, "There's a Bright Side Somewhere." I'm not much of a crier, but as he sang those words with a voice worthy of a Grammy, my lips began to tremble and tears flowed down my cheeks. I thought to myself, "Why am I doing this now? Why am I hearing this here?" It wasn't too long ago that I had to deal with a similar situation and I thought I was over it but I felt it once again, that feeling of absolute loss. He then concluded by saying that she passed shortly after singing that last hymn and that he was the only one to witness it. What is there to be said about that, I thought…but the message was clear in the words of the hymn. There is a bright side somewhere no matter what I might be going through, whether it's the tough concept in a chemistry class, or the times where I feel unworthy, and even in the ultimate loss of someone in my life, there's a silver lining to be found and that's something to keep my head up for. I had previously felt unprepared and therefore unable to present our group's work, but upon realizing that message not long after his speech, the doubt was gone and had been replaced with source of energy that I hadn't felt before…On the night of the presentations, just two hours before they were set to take place, we were up in our professor's hotel room as if it were a war room. It was both nerve racking and exciting and when the time came for me to get on the presentation floor I was ready to talk to anyone about our project…It was inspiring to see all the work being done around the U.S. by students who were mostly like me, it made me feel as though I too could go on to do something spectacular. And in seeing all these students of various backgrounds go onto the floor and present with confidence and conviction, it only elevated me to do the same if not better."

(Edwin Rashidi) "It was a great feeling being in a room with other students who were also passionate about doing research. It gave me a great idea of how important research is, and how our research could make an impact on the world. I was so excited to present my research that it made me want to go straight to work in producing our next generation hand operated centrifuge. [But it] would not be what it was if I didn't have my two peers. We all worked so well together, each of us contributed so much to this project…I hope I can have good peers in my future researches."

(Miguel Macias) "It was really eye opening seeing all of the other posters and realizing how simple scientific research can be presented…I feel that this conference has prepared me to follow a straightforward logic when creating research posters."
SMC Human Resources and the Classified Professional Development Committee is proud to report the successful completion of the Spanish in the Workplace Series—designed to provide classified staff with basic skills to bridge the communication gap between English and Spanish speaking students and families—as well as the first-ever Customer Service Academy, which included sessions on communication, time management and stress management. SMC's own Community Education division helped facilitate the training sessions. And, in addition, a first "Management Training Series 101" was presented. The well-received training sessions covered topics like management/employee labor relations and workplace bullying. HR Director Tre'Shawn Hall-Baker, HR Dean Sherri Lee-Lewis, VP Marcia Wade, and HR analyst Flavio Medina-Martin organized these.
HR also received recognition in the form of a California Community College Chancellor's Office Leadership Development Funding Award—Tre'Shawn Hall-Baker and Laurie Heyman spearheaded the grant request. Congratulations to the Human Resources office!
Laurie Heyman, Assistant to HR Vice President Marcia Wade, was a host committee member of the 2nd Annual Ghostly Gala to Vanish FSH Muscular Dystrophy held Oct. 30, a fund-raiser to support cutting-edge research into the causes of Facioscapulohumeral Muscular Dystrophy, the most prevalent form of muscular dystrophy. 800,000 people world-wide suffer from this disease.
Dione Carter, Dean of Noncredit and External Programs, made a presentation—"Embracing Noncredit to Credit and Career Transition Opportunities"—at the CCCCO Student Success and Support Program/Equity Directors Training in Sacramento. Esau Tovar, Delores Raveling, and Laura Manyweather, Interim Project Manager of Adult Education Programs, also attended. "Exciting times for us; hard work too!" wrote Dione.
The SMC Police Department worked with UCLA to donate athletic shoes to the Santa Monica Police Activities League. Marcia Lewis was the bearer of presents!
* * *