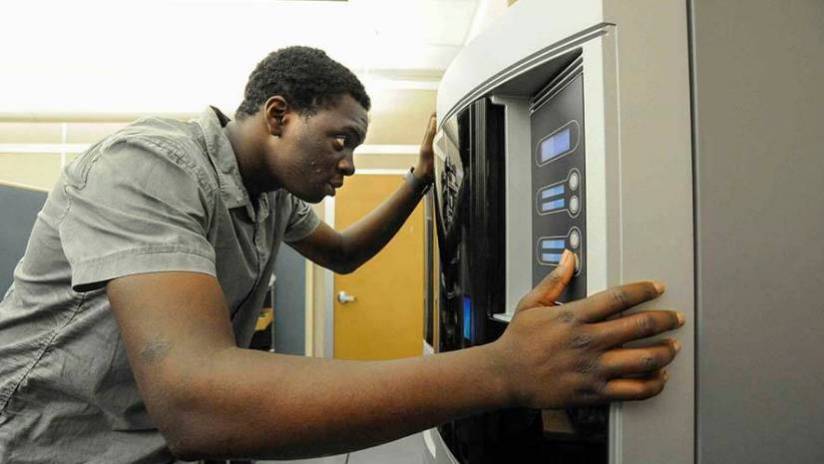 Five-Year Grant to Expand Opportunities in STEM fields for Hispanic, and Low-Income Students
The U.S. Department of Education awarded Santa Monica College (SMC) a five-year grant totaling nearly $6 million ($5,997,495) to expand STEM (Science, Technology, Engineering and Mathematics) programs at the college this October. The grant will support the activities of the SMC STEM Learning and Leadership Innovation Center to increase the number of Hispanic, and other low-income community college students interested in transferring to a four-year program or pursuing a career in STEM.
The grant was one of 38 such awards to California Community Colleges—all Hispanic-Serving institutions—totaling more than $40 million statewide, and will support SMC in continuing a successful STEM Science and Research Initiative established in partnership with UCLA after a $5.8 million grant received from the Department of Education in 2011.
"We reviewed over two hundred applications for the 2016 Hispanic Serving Institutions (HSI) STEM & Articulation Program award, and SMC's ranked high," said Beatriz Ceja-Williams, Director for the HSI Division of the U.S. Department of Education. "We recognize the importance of STEM in this economy and are certain that SMC will implement projects and programs that will help increase the number of Hispanic and low-income students that graduate with degrees in STEM fields."
SMC STEM students avail themselves of specialized courses, free counseling, tutoring and supplemental instruction, and attend workshops geared towards equipping them for success in STEM careers. From those who complete the program's rigorous requirements, a group is selected by UCLA through a competitive process for ten-week paid research internships in the university's labs through the Undergraduate Research Center.
"Santa Monica College is dedicated to advancing achievement in STEM for underrepresented minority students and this grant will allow us to build on the significant progress our Science and Research Initiative has made these last few years in partnership with UCLA," said SMC Superintendent/President Dr. Kathryn E. Jeffery. "With this grant, SMC will continue preparing many more students for careers in STEM fields and will, also, impact the diversification of the STEM workforce overall."
SMC will use the new funding to develop an engineering program and physics-preparation courses, as well as establish articulation agreements with four-year engineering programs. The College will also expand student support services—including counseling and tutoring—with a focus on engineering and computer science students, and establish a permanent learning space for the college's STEM scholars.
Future plans include a "transfer bridge program" in partnership with UCLA's Undergraduate Research Center for year-round academic support, and honors coursework for UCLA transfers. In addition, the grant will focus on extending opportunities for industry-based experiential learning opportunities and internships.
SMC Associate Dean for STEM and Student Equity Dr. Melanie Bocanegra said that the college's success in obtaining the grant is "a testament to the hard work of all the instructors, counselors, and student support staff who meet our students where they are."
"Our newly-established STEM Supplemental Instruction student lab will play a pivotal role in creating a STEM peer mentoring program and network," said Dr. Bocanegra. "In addition to continuing our partnership with the UCLA Undergraduate Research Center to offer a ten-week summer research program, we also plan to partner with local STEM businesses to offer externships to students."
Dr. Tama Hasson, UCLA Assistant Vice Provost for Undergraduate Research and Director of the Undergraduate Research Center – Sciences, said that the collaboration with SMC has been "an extraordinarily positive experience for UCLA."
"We've learned so much about the needs of transfer students and have crafted a truly exceptional program that nurtures STEM students from their start at SMC to their ultimate transfer to UCLA," said Dr. Hasson, adding that the SMC students who have come to do research at UCLA "have all been excellent." In just ten weeks, she said, they "achieve so much" and their research presentations are "the type of work you would expect to see from a graduate student."
Maria Cabrera—an SMC alum who transferred to UC Berkeley this fall as a biochemistry major—said that she never considered a STEM career before she came to SMC.
"In high school, I had no idea what I wanted to do," says Maria. She "randomly picked some majors" after graduating, but after being rejected from the universities she applied to, she decided to come to SMC. After getting an email from the STEM program inviting her to apply, she stumbled on a new—and unexpected—passion: biochemistry. Last summer, Maria interned in UCLA's Department of Human Genetics exploring the effects that gonadal hormones might have on pancreatic cells, and how these hormones might contribute to differences in how males and females get diabetes induced by Statin, the cholesterol-lowering drug.
Cornell University mechanical engineering student and SMC alum Jonah Okike—a Jack Kent Cooke Scholarship recipient—echoed Cabrera's sentiment. Jonah struggled academically in high school and enrolled in business and computer science courses at SMC for a year until he applied to the STEM program, on a counselor's recommendation. "The STEM program at SMC offered so much for me – their doors were open any time. I've made it to this point because of them," said Okike.
For more information on the STEM program at SMC, please visit smc.edu/stem or call 310-434-3988.
* * *