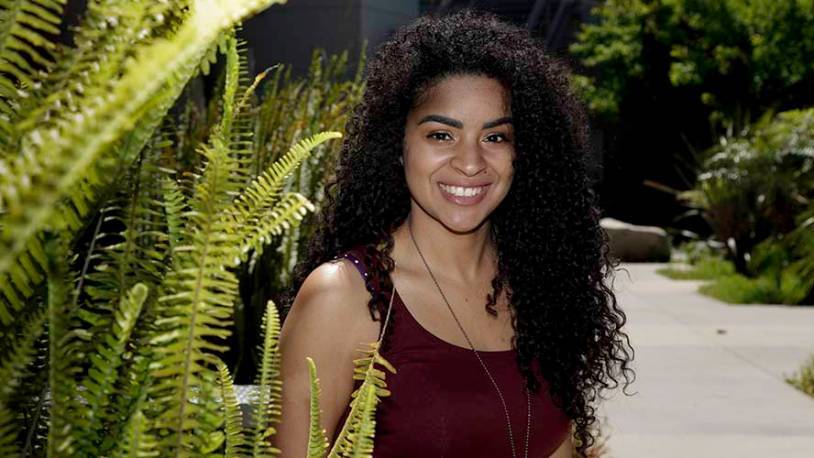 Seeing her smiling face and calm appearance, no one could guess at the hard road Vanessa Dotson traveled to get to where she is now.
Vanessa was raised by her mother in Fresno. She had been accepted at Cal State Northridge, but her mom could no longer afford to take care of her, so she went to live with her dad. She didn't know him well, and it turned out that he had some issues of his own. One day, Vanessa came home to find her bags packed, and was told she had to leave.
For the next four years, Vanessa was homeless, living in her car and crashing at a recording studio. She put her dreams of going to college on hold.
Financial distress and homelessness were just some of the many obstacles in Vanessa's life. As a half African American and half Latina, she experienced various forms of racial discrimination. And as a person who identifies herself as queer, she also encountered strong levels of sexual discrimination. Still, she persevered. "My hunger for knowledge keeps me going," she said.
Eventually, she found a home with friends who let her stay with them. One day, she said, "I was driving for Uber and had a passenger who was an SMC student. She told me how much she liked SMC and what a cool place it was, so I decided to check it out." Vanessa liked what she found: a good location near the beach, with a better environment than where she was.
Everything changed after that.
In 2017, Vanessa — the first in her family to go to college — enrolled at SMC as a full-time student. "Coming here was one of the best decisions I've made," she said. "It's so open and really diverse."
Despite working two jobs, Vanessa thrived at SMC, which gave her the environment she needed to expand her knowledge, explore her interests, and gain confidence in her abilities. She got involved with Black Collegians, a program that helped push her into focusing on her studies, and that offered her the academic and other support she needed to succeed in her courses.
Making the most of what SMC offered, Vanessa involved herself with campus social activities. She joined the SMC Investment Club, where she was the first and, at the time, the only female member of the club. That was a situation she was determined to change, so she became the club's marketer, working hard to make it more visible and expand its membership. She also became an active member of the prestigious Phi Theta Kappa honor society.
Bringing awareness of marginalized groups of people is one of many goals in Vanessa's life. Her experiences while homeless and while at SMC have inspired her to be a mentor to her 12 siblings and three stepsiblings. "Life is unfolding, and we all have different obstacles to overcome," she said, "but we make little successes every day."
Vanessa has graduated from SMC with an Associate degree in Liberal Arts. She plans to transfer and major in Business, and continue her studies in marketing and accounting all the way through graduate school.
* * *