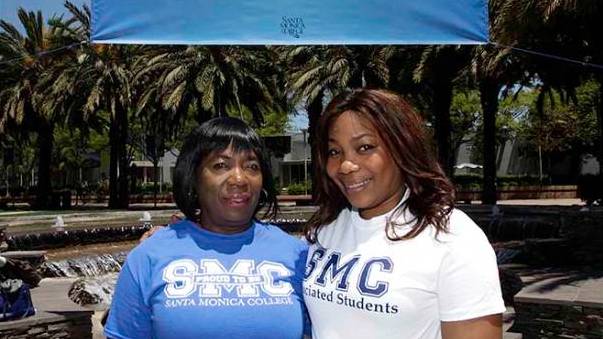 First, Alex's Story:
After extensive physical and speech therapy for cranial nerve damage, Alex Boyd needed a change in her life. When a cousin told her about "this great college out in California, I looked up SMC and was captivated by the serene atmosphere of the campus," she said, "so, I decided to look into the programs offered. My mom said, 'You should go,' and I did."
Alex — Student Trustee for 2018-2019 on the Santa Monica College (SMC) Board of Trustees and a former SMC Associated Students Budget Director — moved from New York and enrolled at SMC in 2014. "I just walked onto campus and tried to crash a Black Collegians Program math class," she said.
She was told to go talk to SMC counselor Sherri Bradford, who heads the Black Collegians Program, "so I went straight in. Ms. Bradford dropped everything and wrote a request to get me into the class. Black Collegians offered me my first leadership position. If Ms. B leads a program, I'm there. I have blossomed because of her and Black Collegians."
There are a lot of things Alex used to take for granted, but "now I push harder, and there is a fight in me." While she was healing, one of her sisters "wanted to help my mind, so she gave me math problems to keep me busy."
At SMC, Alex found Math Lab coordinator Judith Mosher, who understood the learning challenges Alex faced. She also discovered the High Tech Training Center and counselor Lisa Courto, who worked with her twice a week and made a real impact.
"When I was the AS Budget Director, I realized how much I loved being a voice and having the ability to make change and have an impact," said Alex. "I have strong women in my life who refuse defeat and give love and support. This circle has allowed me to flourish and be the best I can be."
Alex just graduated from Santa Monica College with an Associate degree in Communication. She plans to transfer and major in Media Studies, and hopes to have a career in public policy in the health industry, especially in the area of patient care and communication.
And Now, Here's Hermin's Story:
A year after her youngest child Alex moved to California, Hermin Price traveled from New York for a visit, wondering why her "baby was so fixated with SMC."
The mother of five and grandmother of six, Hermin was born in Kingston, Jamaica, where she attended school until she was 13. In 1970, she moved to Brooklyn, NY, and earned her GED around 2005.
Hermin asked Alex a lot of questions about SMC, then decided one day to accompany her to the main campus. That very day, Hermin became an SMC student herself.
Like her daughter, Hermin joined the Black Collegians Program. She also found help and support through the Learning Disabilities Program and the tutoring services offered on campus, and she made the most of faculty office hours.
Hermin said she loved all of her classes, but one of her favorites was one of the first she took at SMC: English 85, Reading and Writing 1. "After being away from school, this class really helped me transition as an older adult on campus," she said. "And I just love George Davison," she said of her SMC English instructor.
She is spreading the word. "Now I'm a big fan of SMC, and talking to everyone about it."
Four years later, and now in her late 60s, Hermin just graduated from Santa Monica College with an Associate degree and a certificate in Early Childhood Education. She plans to take some time off, then explore what SMC's Emeritus Program for older adults has to offer.
Big Fans
Between the two of them, Alex and Hermin have influenced others to pull their moms back into school. Both said SMC is the place to do it.
"There is nothing back in New York that has what SMC has," said Hermin. "I watched my baby come back to life, and it's all because of SMC. Alex has so many friends and people she helps. Sometimes I go into a corner and cry. I am so proud of her."
The feeling is mutual. "My amazing mom was always there for me," said Alex. "I saw her sacrifice her dreams because she had so much responsibility as a single mom out there on her own. I want her to be able to brag about herself."
Surprise, Surprise
Alex and Hermin share a mischievous streak. They are also pretty good at keeping a secret. Relatives flying to California for the SMC commencement ceremony were expecting to see Alex graduate. They had no idea that Hermin will also be there in cap and gown, achieving her dream—with her daughter, an inter-generational testament to the life-changing power of education.