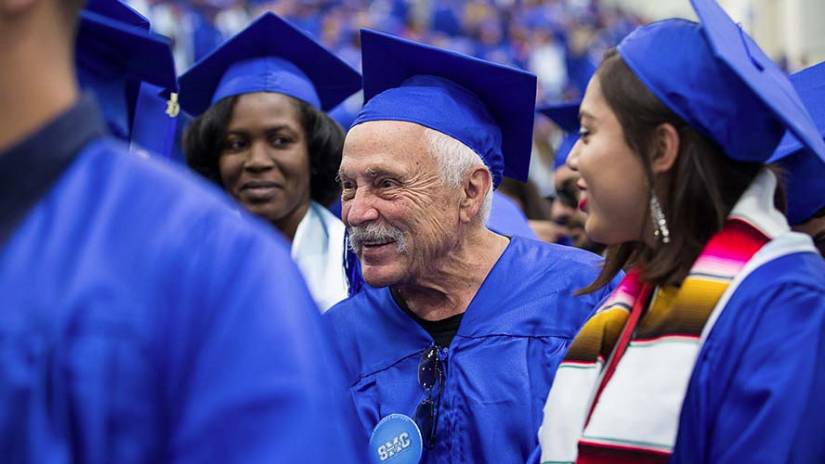 Saul Isler is quite proud of the fact that he is Santa Monica College's oldest graduate this year. He had no doubt that on June 11, 2019 he "wanted to do the whole thing, cap and gown and all!" The 85-year-old walked across the stage on Corsair Field to receive his Associate Degree in Liberal Arts, to finish what he had begun over six decades ago. And this time round, he had found a place he loved and people who drew him even deeper into what he loved best.
Detour after Detour
When Saul graduated from high school in 1952, he had no idea where he was headed. And so he was encouraged to study towards an engineering career, and then law school so he could become a patent attorney like his father, who ". . . said it was a good field, a lucrative field, and who was I to argue?"
Saul headed first to the University of Wisconsin-Madison; he did not do well. "In fact, they suggested I leave," he remembers. He "flunked out"—in his own words—and next headed to Case Western University in his hometown, Cleveland (the university was then known as Western Reserve University).
"I bounced around, I could not find myself," says Saul. "I had no idea who I was or where I was headed. At that time I was able to get into Cleveland-Marshall Law School, the same school my dad, Bill Isler, graduated from." He spent two years in law school; he edited the school paper and loved that—but he did not feel the same way about what he was studying.
Saul decided he had had enough. "One day, I just shut the books and said, 'that's it'." He'd spent seven years working at an undergraduate and graduate education. He became an autodidact. His father was disappointed but pointed out to Saul that he was a good writer, and that he might give advertising a try. He sent Saul to an ad agency operated by a friend's son in Cleveland.
"I walked in there and said, 'wow, this is for me,'" says Saul. That was the beginning of a career in advertising—he went on to establish his own agency, called Moonlight Bay Advertising. The name was apt, because at the time he set it up, Saul was a moonlighter, working during the days at another agency. His agency would be a one-man operation; Saul did the writing, the artwork, public relations. "I did just fine," he recalls.
At the same time, he began to put to practical use a skill he'd learned in engineering school: patent drafting. He made patent drawings for his father—after 64 years, he's still doing this and Saul guesses he just might be the oldest and longest in that line of business.
Saul also became a freelance journalist; he wrote a woodworking column called "The Woodbutcher" and many cover stories for The Sunday Magazine (the now defunct weekly publication of Cleveland's major daily newspaper, The Plain Dealer). These were mostly about food, which, says Saul, "had always been a great interest of mine."
At the age of 61, he decided to "pull up [his] deep roots in Cleveland," and move to California.
A Lingering Loss, a New Life
Mia, Saul's second wife, was the love of his life. When he met Mia at a James Taylor & Linda Ronstadt concert in Cleveland in 1974, Saul was newly divorced. When he proposed to Mia, it was a foregone conclusion. "We knew that this was what we wanted," Saul remembers. It was around this time—he was 40—that Saul felt he had been reborn, and finally knew who he was.
Saul and Mia were deeply connected. "One day, I walked into the room with an Ikea catalogue in my hand; I tossed it to her and said, 'Mia, there's something in here that I really want us to get. What is it?'" She flipped through it, pointed to a little table and said: This. They had never discussed getting such an item, says Saul. "That [kind of thing] doesn't happen. It does sometimes if your minds are together. She knew my taste; I knew hers." Saul would lose Mia to alcoholism, a loss that has stayed with him ever since. "I think of her every day," he says.
A lover of literature—Saul's favorite writers range from Emile Zola and Anthony Trollope to Sinclair Lewis, Elmore Leonard, and Anthony Doerr (he has 36 portraits of his favorite writers on a "Writer's Wall of Fame" at home)—he had begun to write fiction in 2000. But there was one thing he could never write about—whether he tried it in the form of a novel, a short story, a play, or a poem: losing Mia.
Saul would go on to publish three novels and two books of short stories, as well as one on solving acrostic puzzles, which he calls "a great joy" (he does "mental push-ups" by doing an acrostic puzzle a day). Saul's novels feature a detective named Ovid Kent, a former DEA operative who gets burned out, almost gets killed, and opens a used bookshop on a houseboat. The first book is called "Babe Ruth is Missing." The second: "Shakespeare is Missing."
As for the third in his Ovid Kent trilogy, which Saul confesses he's having a little trouble with, its title is: "Jesus is Missing." "Being Jewish, it's not easy, but I chose it," says Saul. "I figure, he's Jewish, I'm Jewish. So what's the difference?'"
It was on a day in 2017 Saul decided he wanted to go back to school. He went to UCLA and told a counselor he wanted to enroll. His financial situation wasn't great, and he was told he should go to Santa Monica College to get the background and education he needed. The icing on the cake? Saul's education at SMC was virtually free.
This, in short, is how Saul began a new life at a college he calls "amazing."
"Anybody Can Fit In"
Saul felt nervous the first time he walked into a classroom at Santa Monica College. "I was very self-conscious thinking they must be wondering, 'What the hell is this old man here for?'" He imagined that the younger students might think he was an Emeritus instructor (SMC's program for older adults) but he was mistaken. "It turned out that they didn't give a damn. They didn't look at me and make a decision on who I was. They wanted to know me . . . and I wanted to know them."
In English/Creative Writing Professor Mario Padilla's class, Saul made friends ranging in age from 19 to the mid-30s. Many were fellow writers and poets. With them, he took part in PSPoets readings organized by Mario's former students at Gravlax, a bar in Culver City. "They have given my head a youthfulness I wish my body could keep up with," says Saul.
In an LA Times feature article that came out the day after Saul's graduation, City Beat columnist Nita Lelyveld wrote: "Saul is old enough to have, as a 13-year-old boy, snagged an autograph from Babe Ruth at a coffee shop."
Mario Padilla says that it is visible how much Saul's younger counterparts enjoy being around him—and also that he's an unassuming embodiment of how one might live. "Saul has more energy, purpose, and humor than many of my students who are often suffering with anxiety over the direction of their lives, taking things too seriously," says Mario, "things that Saul—who had already lost a wife—knew would happen, so you live and learn and take what fate gives you and try your best to enjoy all the good that comes along."
In addition to Saul's sense of humor and ability to accept his younger counterparts for who they are, Mario says, "He never talks down to them as being 'older and wiser' . . . in fact, he's honest in saying he is learning as much from them as they might learn from him. And: Saul is genuine. He is simply and always: himself. A trait very hard to learn, I must say!"
Saul's fans were not just fellow students or professors, either. Counselor Kymberlyn "Kym" McBride met Saul while he was working with another counselor, and when she introduced Saul, Kym says: "That was it."
"He was so nice, so funny, I told him [from then on] I was going to be his counselor!" remembers Kym. "I told him the days and times I worked and encouraged him to come in or email me if he needed anything. He knew what he wanted so we both worked hard together to get the job done." And now that the mission's accomplished, Kym adds: "I must say I am so proud of Saul but [I am] sad for me. I am truly going to miss this amazing student."
"The Place that Nurtures that Kind of Feeling"
"There's a thought floating around that junior college—that's what [community college] used to be called—is not the same as college college," says Saul, "Somehow I thought the quality of education couldn't be as good. That was before I came here. I was stunned by the high quality of education. I haven't had a bad instructor."
In addition to Mario's class, Saul enjoyed his SMC classes in film, script writing, a jazz appreciation class with Dr. Lesa Terry (who he also thinks the world of), and more. His advice to prospective students of any age is that "they come right here and get this education."
His future plans? Saul intends on doing more writing until "the pen has to be ripped out of my dead hand."
There's one other thing Saul loved about SMC. "I was also amazed at the diversity of this place," he says. He likes to sit on campus, watch people, and—using a favorite Yiddish word which means to feel happy and proud—Saul says SMC makes him kvell. "I like to walk up to people and introduce myself, talk to them: that's who I am. I love people. This is the place that nurtures that kind of a feeling."
Speaking of that kind of a feeling, as Saul sat among his fellow graduates on Corsair Field, commencement speaker and California Secretary of State Alex Padilla sprang a surprise. He called out for a certain "Saul Isler". The audience of roughly 8,000 clapped, cheered, and whistled as Saul stood up and doffed his mortarboard.
"[Saul is] proving to all of us," said Secretary Padilla, "that it's never too late to learn."
Indeed.
* * *