Contact Information
We are still operating remotely for the Spring 2022 semester. No on-ground services will be available. Please email us at Black_Collegians@smc.edu
You can also leave a message at 310-434-4232 and someone will return your call within 24 to 48 business hours.
Spring 2022 Virtual Hours: Monday through Thursday 9 a.m. to 5 p.m.; Friday 9 a.m. to 1:30 p.m.
Drop In Counseling Queue!
You are now able to add yourself to the drop-in queue called Qless! Please make sure to check your email about the times that we have available for drop-in. During the first week of the Spring 2022 semester, the drop-in queue will be available each day of the week. If you press the button during the day and it shows the queue is inactive, our counselors may be on office hours and will return to the queue soon. Please, please keep checking back. Also keep this in mind: 1) The queue may be turned off before 1:00 pm if students are currently waiting in the queue. This is to allow the counselor(s) to get to all of the students before their office hour. 2) The queue may also be turned off a little early at the end of the day if students are waiting to ensure that all of the students in the queue are going to be seen.
About us!
The Black Collegians Program/Umoja Community at SMC is designed to assist students of African descent in transferring to four-year universities and obtaining their Associate degree. We offer services to help you become academically competitive and to set personal goals. Black Collegians program staff and counselors provide a constant source of encouragement to our students and work with you to ensure that your needs are met.
The Black Collegians Program is a program within the statewide Umoja Community. As a recognized program within the Umoja Community, we abide by the mission and the educational philosophy of the Community and we share strategies and goals with other Umoja Community programs at the various California Community Colleges statewide.
In February 2020, the program received the highest honor in the form of a $325,000 endowment provided by Mrs. Ann Wang through the Wang Joint Living Trust. Mrs. Wang has changed lives with her extreme generosity (she made the donation on her birthday!) and her down-to-earth kindness.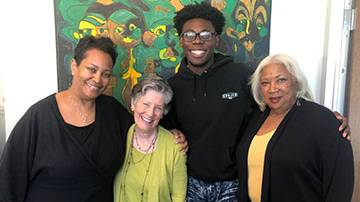 (Left to right) Black Collegians faculty leader Sherri Bradford, donor Ann Wang, Black Collegians/SMC student Funmi Adeleye, and Kathryn Jeffery, SMC Superintendent/President.
Our Mission
Umoja, (a Kiswahili word meaning unity) is a community and critical resource dedicated to enhancing the cultural and educational experiences of African American and other students. We believe that when the voices and histories of students are deliberately and intentionally recognized, the opportunity for self-efficacy emerges and a foundation is formed for academic success. Umoja actively serves and promotes student success for all students through a curriculum and pedagogy responsive to the legacy of the African and African American Diasporas.
Why Should You Join Us?
Our program counselors offer academic, career, and personal counseling to help students achieve their academic goals.
On average, Black Collegians Umoja students have statistically higher GPAs than African American students who are not in the program.

BC students persist to the next fall term at a higher rate than African American students who are not in the program.

First-time freshman students and continuing students in the program successfully complete their enrolled courses at a higher rate than students who are not.
How to Join Us?
We will have another enrollment period beginning in June 2022. You will attend an orientation during the winter or early spring as the first step to joining the program.

Meet with a Black Collegians Counselor for an interview and discuss your educational plans. To make an appointment with a BC Counselor, you will need to email us or call us to request an appointment.
Our Requirements
All Black Collegians Program participants need to meet the following criteria each semester during the academic year:
Meet with a Black Collegians Program counselor at least twice each semester.

Attend a minimum of three program activities.
For more information visit: Requirements